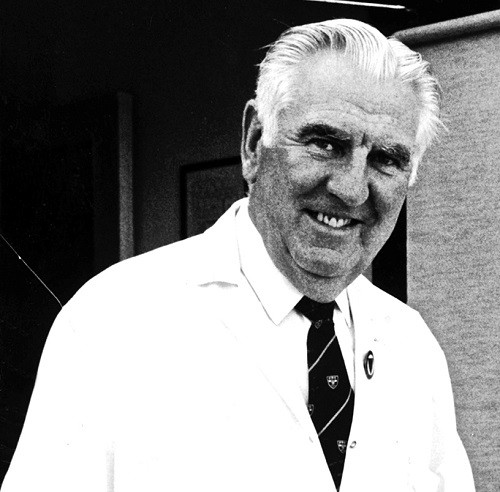 GONE, BUT NOT FORGOTTEN…a reflection on the contribution of former stalwarts who gave to Ulster cricket…'GENTLEMAN JOE' VAUGHAN
In my book "A History of Senior Cricket in Ulster" I wrote "Gentleman" Joe became a colossus in the umpire's fraternity, a great character…' and he thoroughly deserved the accolade.
Sadly, he died in January 2008 at the age of 90.
Joe was an Armagh man and over the years became widely known throughout Irish cricket. His legacy was intact following his appointment as the first accredited ACU Instructor in Ireland and he put that to great effect with his colleagues. Joe was the Father of Umpires, and travelled widely to train Umpires and Scorers to improve.
The standard he set was a testimony of what he achieved.
Joe enjoyed the camaraderie of fellow cricketers, and in the twilight of life he loved no better than to watch cricket in his home club on the Mall. He had plenty to reflect on his achievements, but he was a modest person and his broad smile was always met with a warm handshake. His popularity was immense with both players and fellow Officials, and when he was in the middle his presence ruled supreme, as players never questioned his decisions. He earned that status.
Our modern cricketers take it for granted that Umpires have reached high standards. However, it didn't happen overnight, as the groundwork started almost 50 years ago, largely by Joe Vaughan. His vision was to raise the standard and profile of Irish umpiring and it began in the early 1970s.
Unbeknown to his colleagues, he attended the North West ACU region in Manchester, and was awarded ACU Instructor Tutor status. Then he set up courses to qualify local umpires. He did it almost single-handedly until George Archer and Stanley Long assisted him, and later Paddy O'Hara was handed the baton to continue his great work.
Joe started travelling to Wallace Park from Armagh for meetings, but in due course the meetings expanded to Belfast, Dublin and Londonderry. And this was in the midst of the Troubles with all the checkpoints, searches and travel disruptions!
One of his achievements was the cross-border exchange which Joe helped to establish with the Leinster Umpires. As a result, the inaugural exchange took place in summer 1981 when Joe travelled to Dublin and vice-versa a Leinster Umpire travelled North. In 1982 Joe accompanied Dai Jones to Dublin and they were the first two NCU umpires to officiate in a Leinster Senior League match which took place between Railway Union and Malahide.
Paddy O'Hara takes up the story…
"Dublin Umpire Liam Keegan made the overtures to the NICUA, but there was some disquiet and hostility from a few of our members who wanted no truck with the Leinster Association. But plans went ahead and Joe, as ever the Diplomat, went ahead with the exchange visits to Dublin. But it had to be described as a 'Private' visit and not under the aegis of the NICUA! These exchanges became regular events on our Umpiring Calendar, and there were many hair-raising stories of the late-night homeward journey across the border with as many as 4 or 5 police and army checkpoints to be negotiated. I think the Garda and the British Army got to know who we were!"
Joe also played a key role with the Northwest umpires and now shared the workload with Paddy in a similar position as Umpires Instructor. In 1988 the inaugural NCU/NWCU exchange started with Joe, Paddy, Stanley Perry and Arthur Thompson. It seems the social exchanges between Dublin and Derry was just as enjoyable and late nights inevitably followed. The exchange worked well for both players and Unions, and still remains intact.
Joe stood at many grounds throughout Ireland. He never sought praise, but inevitably it followed. He was rewarded with 3 NCU Senior Cup Finals (1972/1978/1986, the NCU Centenary year), and 3 International appearances (1976/1982/1983) twice at Downpatrick and once at Ormeau. Joe and Ivan Reid also officiated in 1980 between Ireland and the Overseas Professionals, also at Ormeau. Unfortunately, Ireland only played sporadically during the Troubles and alas Joe did not stand in as many International matches as he could have done.
Honours followed, when Joe became President at his home club Armagh in 1983-84 and then NCU President 1992-93. He was later awarded an Honorary Life Member of the NCU and also by the NIACUS (by then Northern Ireland Association of Cricket Umpires and Scorers). He was a popular President and warmly welcomed from by clubs. In return, he welcomed everyone within the NCU and in particular in 1992 when the Lord's Tavernerns CC played his President's XI. Both teams were packed with celebs and he struck a great friendship with Leslie Crowther and Nicholas Parsons, well known for their TV Game Shows. Joe was presented with a Taverners Plaque by Nicholas.
As Joe eased in a new generation of NIACUS Officials, he never lost his roots and was always a great attendee at cricket and social exchanges. In particular the Annual Dinners within the Unions and the Umpires Dinner were very special to him. He loved the White Stick Trophy matches between the Leinster and NCU umpires and scorers, enhancing the friendships he had formulated in the 1980s.
Former Ireland fast bowler Paul McCrum knew Joe well over the years, especially when he played at Armagh. As expected, he gave him a huge tribute…
"I adored Joe – why? He was respectful, genial, always immaculate, charming and loved our Country and the great game of Cricket. I first met Joe during his umpiring days and looked forward to his visits to Pollock Park, Lurgan with Billy Williamson –and along with Pete Reith and Beattie Arlow, these were my favourite umpires – why? They were knowledgeable about the game, never wanted to be the stars allowing the game to flow, and had tremendous rapport across a wide spectrum between senior players and young tearaway 'quicks', like myself.
Despite me always pushing the limits, they were never rude, were balanced, and made 100% impartial decisions, which I respected. The humour and camaraderie between Dickie Maxwell and Joe and Billy was priceless, and I treasure it to this day. Top umpires allowing the game to flow in a respectful manner.
Ongoing I met Joe in my early Sales Career with James Hamilton & Company, Lurgan. I visited Armagh 1st Monday of every month and that led to a meeting on the Mall between Joe, Seamus Duffy, Davy Lester, Hammy Ewart, Stanley Alderdyce, and myself. These impromptu meetings were cricket catch-ups, reminiscing, sharing friendship and laid the seeds for Paul McCrum to ultimately join Armagh CC.
When playing and living in Armagh Joe was a wise counsel, a dear Friend and a true Gentleman around the Town, much loved by cricket, football, rugby and Church.
I would often chat with him and share happy memories with some great craic. As President of the NCU Joe was perfect for the role with his naturally charming persona. My special highlight was receiving the 1993 Senior Cup Final Man-of-the-Match Award from Joe, following two epic days for Waringstown v North Down at Downpatrick. I recall warmly when I let the handbrake off and ripped through the Comber men. Receiving this Award from Joe was a huge honour.
As I sit sipping a coffee and reflecting, I wish the World today had more Joe Vaughan's ….it would be a far better place.
Rest In Peace Joe until we meet – '"Right arm over Sir."
Gone, but not Forgotten-"Gentleman" Joe Vaughan.
JCH