It is amazing that many former players still have a passion for the game although in most cases they are not connected to a club. It was particularly pleasing to hear that a former Ulster sporting icon now well into his eighties had received a copy and his spirits had been greatly lifted by its contents.
  Former Ballymena all-rounder Oswald "Ossie" Bailie is still living in Ballymena and I'm told his spirits were greatly lifted when he received a copy of the book from Jim Irvine, the former Cregagh opener and top senior rugby referee. Ossie of course has a strong Cregagh connection, as he played for the Belfast Club in the post-war era when he worked in Belfast in the Ulster Transport Authority, Audit office. It was arguably Cregagh's best era as they won the Senior League title in 1947. At the same time Ossie was playing at Belfast Celtic and although his performances were limited by the prolific form and consistency of goalkeeper Kevin McAlinden, Ossie was a more than capable deputy for the Belfast Celtic icon. It was an amazing football team in those days and their squad included the mercurial Charlie Tully, Jimmy Jones, Johnny Denvir, Harry Walker, and Johnny Leathem of Lurgan cricket fame. It was a sporting tragedy what happened in that infamous match with Linfield in 1949, and the subsequent disbandment of Belfast Celtic, a football vacuum that has never been filled.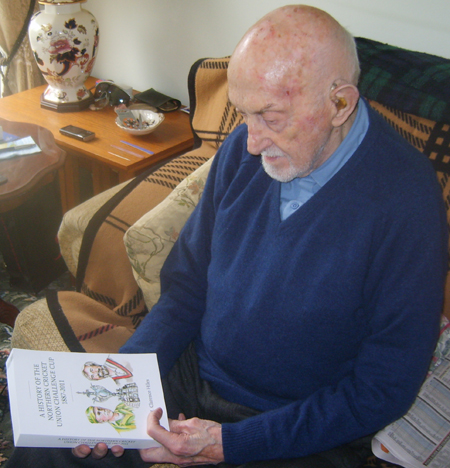 Ossie left Cregagh to play at Ballymena in 1949 and he became an integral part of the club's rise from junior to the top of senior cricket. At the time the club was called Mid-Antrim CC but when they joined up with the local rugby enthusiasts a few years later, they moved to Eaton Park and became Ballymena Cricket Club. Ossie's arrival coincided with return of Billy Barr from Muckamore and between them the two best players of their era began the long hard road of making Ballymena a cricket powerhouse. After all, the game had been played in the area for over 100 years prior to then, so there was plenty of history if not trophies.
  The club's first major breakthrough was in 1958 when they reached the Junior Cup Final only to lose to a strong Lisburn team. Ossie's 74no against Downpatrick and six wickets against Holywood in earlier rounds were two of the highlights of their season, but it was typical of the feisty all-rounder who scored runs and took wickets consistently throughout the fifties. Captaincy was inevitable given his strong personality and leadership qualities, and four years later Ossie was at the helm when Ballymena achieved their first senior trophy by winning the Senior Qualifying League. Ossie was made for senior cricket and he proved an inspiration to a new generation of Ballymena players than included Wilfie Ridge, Jimmy Forsythe, Colin McVicker, Wesley Cairns, Ivor Surgenor, Billy Spence, John Caldwell, Jackie Fullerton and the inimitable Robin Walsh.
  Unfortunately the team was not strong enough to hold it own in the top section and they were relegated in 1965, a year when the doughty skipper captained the club on a short tour to the Isle of Man. Throughout the Sixties Ossie was the a top performer, but the years were catching up and although Ballymena returned to senior cricket in 1969, Ossie moved into his fourth decade with the club as a veteran who was also making regular appearances for the Second XI. In 1973 he scored 101no against Instonians II and when Ballymena shocked the local cricket community by reaching their first Senior Cup Final in 1974 they included the experienced all-rounder in their team. But although Ossie played well batting at number three, the fairytale was ended by the mighty Waringstown, one of the strongest club teams in NCU history. Ballymena did win Section III that season with a strong team captained by the inimitable Jimmy Boyce.
  Ossie returned to the junior teams and became a mainstay before finally bowing to age in the early Eighties. But he left an indelible imprint in the local game and his combative approach owed much to his competitive personality. He played hard and he was widely respected not only for his ability, but also for his enthusiasm and love of the game. He was a great inspiration to younger players coming through the club and when talented young Brian Crockard was tragically killed in an accident on holiday in 1986, Ossie donated a trophy in his honour for best Under 25 Ballymena player each season. The first winner was the irrepressible Jimmy Ireland and the subsequent winners read like a Who's Who of outstanding local crickets, because in the ensuing years the great work done by people like Ossie Bailie, Billy Barr, Trevor Halliday, Tom Greenwood, Scott Gardiner, Jimmy Boyce, George Burton, George Glass, John Caldwell, Andy Kennedy, Carson McCullough, Jackie Neil, Michael Burton, Ivan McCombe, et al has helped take Ballymena to the top of Irish club cricket and produced outstanding players like Wilfie Ridge, the Goodrich brothers, the Cook brothers, the Neill brothers, Crawford McClintock, Dessie Kane, the Glass boys, the Stirlings, Adrian McCoubrey, Gordon McKenzie, Phillip Carson, Neil Fullerton, Alex McKee, Peter Lowry, and of course the amazing Kennedy brothers. Not to mention current Ulster rugby out-half Ian Humphreys who was a Graham Cup winner in 1997!
  The great Sir Winston Churchill once said "Time will not age them" in praise of the gallant soldiers who fought in World War II and, in a sporting context, the same could be said of Ossie Bailie, a sporting legend in every sense.
  Thanks for the memories Ossie.
Clarence Hiles
Editor