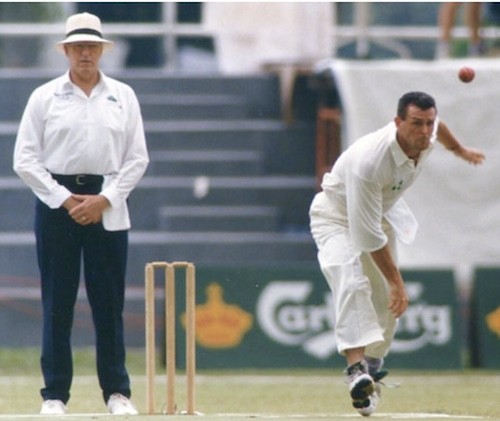 Seasons in the sun – well that's what it looks like in the rear-view mirror. Long glorious Ulster & Irish cricketing summers (with occasional 1 or 2 day showers) that will live with me forever. Being born & bred in Waringstown was an incredible foundation to build from and having my brother Charles (my favourite All-Rounder) as my partner-in-crime a blessing – carefree days spent at The Lawn and latterly Pollock Park, Lurgan – heroes such as Roy Harrison, Mike Reith, Ivan Anderson, Derek Harrison, Ray Hunter, Dennis Guy, Rahul Mankad, Dickie Maxwell & Alan Johnson.
Epic derby battles that were not for the faint hearted (many of these games more intense than some Interpro & International games I've played in!) – passion, pride and much gusto – these were for the battle hardened who went out on a limb and entertained. Bragging rights the prize and avoiding a winter of discontent as a Mid Ulster loser. Champions such as Davy Dennison, Garfield Harrison, Alan Johnson, Alan Nelson, Ross McCollum, Rahul, & Subhash excelled in these).
Next came Ulster Country and of course my debut away to Munster at the Mardyke, where else? Bob Law our driver following a Lurgan v Downpatrick game at Strangford Road – a brutal leg of one 6-hour drive to Portlaoise due to horrendous fog.
One memorable Interprovincial motivational team talk from the great Dermott Monteith in Phoenix Park – Ivan Anderson asked Dermott for a team talk - "consider yourselves motivated" was the reply with Monty immediately standing up and leading the team out to do battle. Interprovincial cricket was at best tough, at worst social and if 1st class stats were back dated I'd like to see my batting & bowling numbers!
The time investment was huge with minimal complaints from the players – there was an expectation to train a minimum 2/3 nights per week at the nets and often 1-2 games per week. Yes that was a quiet week! At my peak it was often 5-6 days per week between Ireland/Inter Provincial/Club nets. A lasting memory is during the Waringstown CC Dream Team Treble Season – Garfield, Big Nellie, Noel and myself would often finish an Irish game and be the first ones at the nets the next evening. We were driven by perfection and the adage the more I practice the luckier I get (it worked!).
Due to not playing Sunday Cricket (unheard of in today's World) I made my Ireland debut in 1989 at the seasoned age of 26 – prior to this, I remember on occasions being asked by selectors to make myself available and they would select me for full international honours. I politely declined until the time was right for the McCrum family.
When I reflect on my 74 Ireland caps (with a few sabbaticals thrown in as I disagreed with the management and their internal cricketing political bias & amateurism), I do so with immense pride. The start was during the largely amateur days when parochialism was rife and deals brokered by Selectors on a Sunday afternoon/evening to give 'their man' a cap. Often an Ireland XI would take the field with a couple of much more talented players not selected – amateur selectors picking amateur players which placed the development of Irish Cricket on the back burner.
I once found out on the BBC sports news I had been omitted to play against the West Indies as we were playing an extra batsman. This was despite best bowling numbers in the previous game! (don't think the head selector wanted to make that 1-1 call on lol). In tears, I remember vowing to myself that I would become even stronger, fitter and dominant so that next time I was omitted, apart for genuine reasons, would be when I retired – it happened.
Thankfully a knight in shining armour aka Mike Hendrick came along and transformed the Irish game – as a former top class International/County player Mike was a passionate, inspirational, uncompromising Coach who commanded excellence & commitment. He was a Man/Coach I respected and in 1995 after I won the All Ireland Man-of-the Match award he approached me about returning to the fold.
Mike was hard, had a great dry sense of humour and when you give him your all he made small concessions and afforded certain freedoms. He is the single reason Ireland left the dark amateur days behind and headed off into the bright dawn of semi professionalism and ultimately the path to professionalism under Adrian Burrell & Phil Simmons. Under Mike we won the European Championship & Triple Crown for the first time – a talented team that believed in itself and was being pushed to grow and develop at a rapid pace.
Fun, yes, we had fun – at a guess probably more than the current team but much has changed with every move by players scrutinized on and off the field. Social media would have had a blast reporting on Eagy, Lord Benson, Pattos, Gussy, Smithy, Cookie to name a few…top players, top men in any era.
So how would the past players fare in today's game – largely very well I'd say – in each Ireland team there have always been 5/6 players who would get into any Ireland team – Alan Nelson, Stephen Warke, Stephen Smith, Neil Doak, Derek Heasley, Ivan Anderson, Dermott Monteith, Simon Corlett, Alan Johnson, Alan Lewis, Charles McCrum, Junior McBrine, Jim Patterson, Decker Curry to name a few.
Pitches have changed, diets have changed, equipment, technology, facilities & bank rolled by currency (of which I have always been a fan to improve performance) – incredible advances and great to see.
When Ireland are playing, I'm still glued to the TV or internet and always there in spirit. I've watched them grow & blossom and celebrated watching Trent, Kyle, Ed, Kevin, Niall, Andrew, Anton, Gary, William, Boyd, Pete & John succeed and place us firmly on the Global cricketing map – dizzy heights that grab one's heart and make you want to be there still playing!
Biggest regret – we blew it to make the 1997 World Cup – that was to be our time and I know the harsh reality of one decision costing Ireland our first seat at the top table – Odumbe v Kenya in the semi. That one still hurts, leaves a gaping hole in my sporting heart – in the words of NZ commentator Ian Smith live on STAR Sports – "it was going under middle stump"…it cost us brutally. After we lost the third/fourth play off to Scotland the team barely spoke a word for two days – gutted beyond belief.
Would I change anything? Aside of that Malaysia 97 outcome no – I am forever thankful and blessed for the opportunity to play the GREAT game of Cricket at every level – I communicate daily around the world with ex-colleagues and competitors - the camaraderie lives with me daily and the memories a word or name conjure up is both heartwarming and eternal.
An Ulsterman & Irishman who is proud of his roots and gave his all wherever he played around the world.
Cricket is always the winner and bigger than us all – let's cherish it.