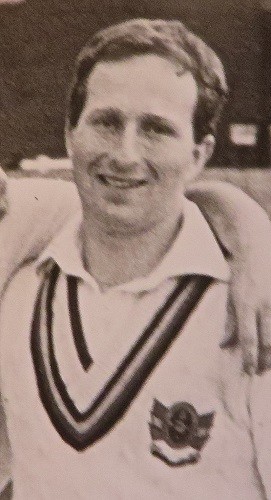 Returning to our series of Q&As with former Irish internationals we talk with Allan Rutherford aka "Nipper". Allan was capped 47 times for Ireland and many experts felt he was unlucky not to have gained many more caps as he was a more than competent wicket-keeper batsman. He played a number of important match-winning innings for both club and country as well as his many victims behind the stumps.
As a Club cricketer Allan was much travelled playing for Brigade and Bready in the North West and Woodvale in the NCU and captained Northern Ireland at the Commonwealth Games in Malaysia. He is a member of the MCC and also the NCU's Director of Representative Cricket.
We hear from Allan.....
When you started to play cricket what were your aspirations?
My aspirations were to play cricket for Bready 1sts where my brothers played.
Who was the biggest influence on your career?
I have had a lot of support during my cricket journey, at school it was Billy McSparron, who kept telling me that I could play at a higher level.
At my club Bready it was Sam McConnell and John Doherty and my club also brought Bobby Rao to coach our boys' team. Bobby would later coach the Irish team along with Mike Hendrick.
Finally, my family who always were there to support me especially my Mum and Dad who sacrificed a lot to enable me to pursue my cricket.
Did you have a role model to aspire to?
My main role model was Ossie Colhoun, as a wicket keeper my Dad took me to watch him play. I loved watching Alan Knott and Jack Russell on television.
Batting wise I loved watching Viv Richards and Alan Lamb on television.
Few people reach your level. What was it like when you put on the Irish sweater for the first time?
It was unreal, I got a late call up after Paul Jackson got injured. I was in work when I got the call at 4.30pm the day before and they informed me that I had to meet the team in the Europa Hotel at 7pm. Junior McBrine called at my home to collect me.
I was presented with my cap and sweater at the team meeting that evening before the Northants game.
The next day putting on my sweater was unbelievable, I looked around the changing room to look at the other players involved. I felt incredibly nervous. When I went outside to warm up and saw my family it made it feel real. The photo with my Dad that day gets pride of place at home.
What do you remember about your debut?
I remember taking my first catch off the bowling of Nigel Thompson. Also keeping well during the Northants innings.
As a batsman going to the wicket when we were 50 for 6, batting with Junior McBrine and standing at the other end and watching Junior hitting the leg spinner for four sixes in that over. Junior gave me confidence to attack. My first ball was against Roger Harper, I hit him past point for 4. Junior and I put on 40 odd.
Your career is full of special moments. What are your favourites?
Too many to list. Most of the memories are to do with the teams I played in and the people I played with and the friendships I made over the years.
A few would be as follows:
Making my debut for Ireland
Captaining Ireland
Captaining Northern Ireland at the Commonwealth Games and carrying the flag at the Opening Ceremony.
Winning cups and leagues with my clubs, Bready, Brigade and Woodvale
Winning the Inter Pros playing for the North West and NCU
Winning the Triple Crown and European Championships with Ireland. Unfortunately we lost in a playoff match to qualify for the world cup.
Winning the Junior cup with Woodvale 3rds playing with my sons.
Many players have superstitions playing cricket. Did you have them and if so what were they?
Just one, always put my left pad on first.
What advice would you give to a young player today?
The game has changed so much. Always be prepared to work on your skill development, practice is so important. Another area is your fitness, it plays such a vital role in the game.
Irish cricket has developed rapidly in the past few years. Where would you like to see it go in the next 5 years?
Irish cricket has come a long way; however the next five years will be vital in determining the long term future of the game in Ireland. We are in a transition period but given the financial backing of the ICC, I would like to see us playing more games against top quality teams.
Structures and development programmes are all in place but even at youth level we need to expose our young players to better opposition so that when they get called into the Senior International team they have been exposed to a high level of competition. No longer can a player be expected to learn about international cricket when they first get selected.
Club cricket has largely been overlooked to accommodate inter-provincial/international level. Has club cricket got a place in Irish cricket?
Yes, it is the life blood of the game. Only a small number of players go on to play inter provincial and international fixtures. We have to be very careful that Cricket does not suffer the same as Rugby when it moved from Amateur to Professional setup.
I do feel that interprovincial cricket should be developed to support the International setup but this should not determine if club cricket should be played. Clubs do not want their league games called off if there is a Inter Pro game going on. With the increase in the number of Inter Pro matches across the three formats these players will play less club cricket.
Do you think the likes of young Jack Carson at Sussex has a better opportunity to ply his trade in England rather than Ireland?
Jack and his family have made the decision for him to play in England. With the onset of Ireland achieving full member test status the avenue for Irish players to play county cricket but also represent Ireland has been closed.
For Jack to play county cricket he has committed his future to playing for England and hopefully if successful he will emulate Ed Joyce, Boyd Rankin and Eoin Morgan in playing for England. If not, he is very young and still has time to play for Ireland.
When Ireland were successful it was no coincidence that we had several players playing county cricket. Hence the reason that Cricket Ireland had to develop their own first-class structure to give players more competitive opposition over the different formats of the game.
International games in the North are poorly attended. What is the reason and could Irish cricket do more to make it attractive?
As a governing body, Cricket Ireland can always do more to promote the game and fixtures being played in Northern Ireland. Budgets probably determine how much they can spend on promoting matches.
However, I do not believe this is the main reason why games have been poorly attended over the past few years. Games are scheduled to suit touring teams, and these are not always scheduled for weekends or during school holidays which impact the attendances.
Other areas include the poor weather. but I also believe that Cricket Ireland can do more with attractive ticket packages for clubs and schools so that clubs will actively market the games.
As part of the future tour programmes we will see all the top players in the world coming to play in Ireland, it is my belief that a joined up approach by Cricket Ireland, The Unions and clubs is required to ensure that the games are promoted in the correct way and attendances improve.