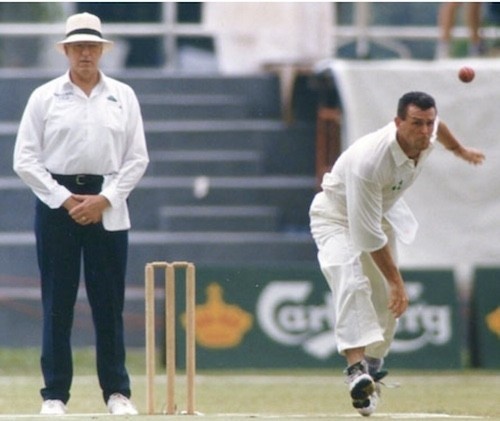 We continue our series this time with Paul McCrum who was capped 74 times for Ireland. Regarded by one of his former captains Alan Lewis as "As good as anyone I played with" and selected by the highly talented and legendary Dermott Monteith in his all-time Ireland XI Paul's international career only started when he was almost 27 but he can look back on it with many happy memories.
At international level Paul operated chiefly as a bowler but as a lower-order batsman, he was, when set, a formidable and effective opponent and he shared in a record 10th wicket partnership for Ireland.
A much-travelled club cricketer Paul was a cricketer of great ability and was renowned for his high fitness levels and work ethics and was always keen to pass on advice to young players.
In 1998, he was a member of the Northern Ireland cricket team at the Commonwealth Games in Kuala Lumpar, another highlight in his colourful career.
We hear from Paul now.....
When you started to play cricket what were your aspirations?
I always wanted to be a footballer or cricketer from a young age – always knew that one day I would play either game at a top level and travel extensively.
Who was the biggest influence on your career?
Many – God, My Family (Dad, Mum, Sydney, David & Charles), Derek Healy, Raymond Hunter, Dickie Maxwell, Walter Sands, Gary McCullough, Ivor Mitchell, Rahul Mankad, Subhash Kshirsagar, Ranjit Pande, Raman Lamba, Ian Johnston, Mike Hendrick, Garfield Harrison, Ryan Eagleson, Gary McCollum, Joey O'Meara & all my Ireland team mates.
Did you have a role model to aspire to?
My heroes were Dennis Lillee, Rodney Hogg & Sir Viv Richards. A huge fan of Botham's natural flair & Imran Khan's inner strength and never give up attitude.
Few people reach your level. What was it like when you put on the Irish sweater for the first time?
For me it was the starting point having worked so hard to get there – I didn't make my debut until I was almost 27 due to not playing Sunday cricket for many years. I played in the first Ireland Under 23s aged 19 and was asked on occasions to play Sundays and I'd most likely be selected for the senior team. At that time in my life this was something I struggled with.
What do you remember about your debut?
– v Northants at Downpatrick – I was nervous but bowled ok grabbing 2 wickets (was dropped after) – some crazy wheeling-and-dealing selections in those days (I'm being very PC here!).
Your career is full of special moments. What are your favourites?
I have many favourite moments. Here are just a few of them -
100 Ireland wickets – Steve James #100;
B&H v Hampshire 10 overs 2 for 10 including Robin Smith 1st ball (they got 270!);
Ripping through Yorkshire at Headingley;
South Africa at Downpatrick (Cronje, Cullinan and Rhodes not given by Paddy O'Hara – it was plumb!);
Winning the European Championship & Triple Crown 1996; and of course
Defeating Middlesex in the B&H at Clontarf 1997 – blessed to be part of these and many more great moments with wonderful team mates.
Many players have superstitions playing cricket. Did you have them and if so what were they?
No superstitions – I was meticulous with my gear and believed one must also look like a Cricketer. I prayed a lot when out in the field.
What advice would you give to a young player today?
The World is truly your oyster – huge opportunities if you work hard, train to be #1, look after your body with the correct fuel going in, mentally be secure and confident (not arrogant) as most top class sport is played in the head, visualize and dream big, put in the work to back up those dreams. Better to fail trying than hide behind others…playing days ARE the best days of your life and leave you with incredible memories of incredible people, places and moments
Irish cricket has developed rapidly in the past few years. Where would you like to see it go in the next 5 years?
#1 priorities are 50 over & T20 – great to be at the Test Match table but this will be a drain on finances and not sustain large crowds and investment. Focus on the shorter formats and upskill the squads ongoing to maintain a production line of talent. Renewed investment & highlight club cricket on the island so that the gap and focus narrows between the top level and grass roots level which ultimately is the foundation (amazing Clubs & Families) – never lose this strength.
Club cricket has largely been overlooked to accommodate inter-provincial/international level. Has club cricket got a place in Irish cricket?
Yes – as I've said previously this will be the level that feeds and nurtures the future Ireland seeds. Strong, competitive Clubs are a must to engage players in the game (Boys & Girls). With the correct Coaching/Scouting network in place this ultimately leads to representative honours. All levels of the game must be competitive and played on the best possible surfaces supporting strong techniques that can be upskilled as the player(s) progresses. Ensure all Coaches are on the same page and there is a 1 / 3 / 5 year plan with ongoing reviews to chart progress and if necessary, realign.
Do you think the likes of young Jack Carson at Sussex has a better opportunity to ply his trade in England rather than Ireland?
Based on where Ireland are today I don't think it matters – the top players must play against top players anywhere in the World for almost 12 months annually - ultimately it will 'come down to' if they have the required skills/work rate/strength (physical & Mental) to succeed at the top level. Not everyone is (or will be a top-level international player) and that's OK – the game depends on players at every level, Interpro/Representative/Clubmen/women/supporters/sponsors who all love the game equally – therein lies the beauty of the great game of Cricket.